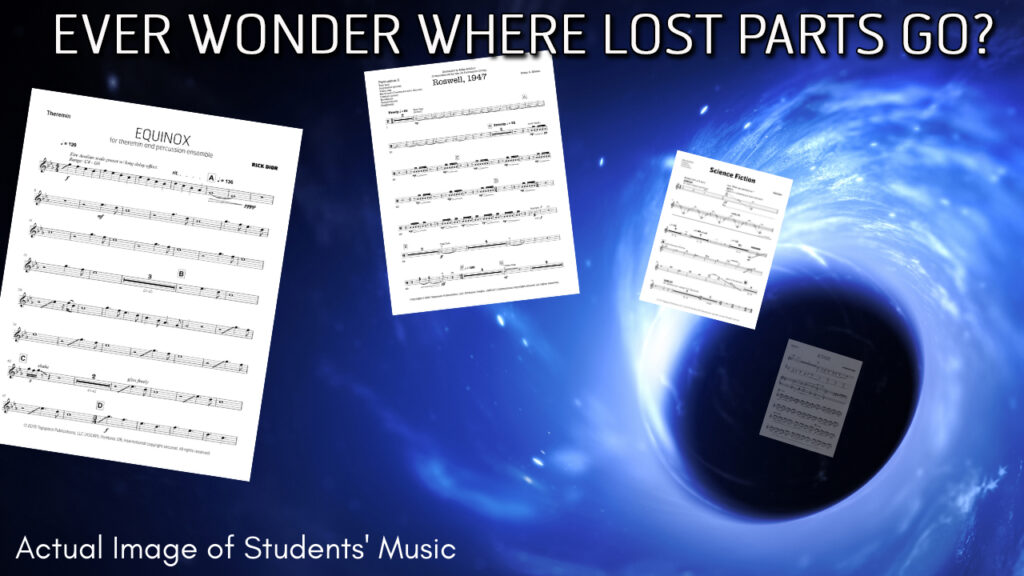 For years, most of our individual parts have come in PDF format. This allows for easy printing (and RE-printing should a student, um….misplace their part). It also allows for simple tablet viewing on whichever sheet music or PDF viewer you prefer.
Back in ye olden days (a.k.a. just a few years ago), these files came on CD-ROM discs that were included with scores. Needless to say, those discs are virtually useless today since most new computers don't have disc drives. (Quick tip: make a disco ball out of your old CDs!)
Regardless, whether you have a CD-ROM drive or just download stuff from the cloud, we provide an easy way for you to maintain access to your parts.
Below, you'll find some of the more common scenarios we offer regarding PDF parts.
REPLACING PARTS WITH DOWNLOADS
If you've lost or broken your old disc, or if you simply want to replace it with downloadable versions, order a File and Disc Replacement anytime. We do require proof of purchase for this service (a receipt or photo of your original product will suffice). Requests are fulfilled quickly once proof of purchase is received.
OUT WITH THE OLD
Starting in 2019, we began phasing out CD-ROMs altogether. Since then, all new scores contain a unique download code in the form of a sticker on the front inside cover. Use this to access your parts anytime online. If your product contains one of these download codes, there is never a need to purchase replacement parts!
DOWNLOADABLE PURCHASES ON TAPSPACE.COM
If you've purchased one of our sheet music products in fully downloadable format on the Tapspace website, your downloads will always be available through your Order History. Easy peasy!
(Note that our downloadable formats are only available on tapspace.com.)
We believe that making (and teaching) music is essential to the world. We'll continue streamlining the ways in which you receive our products so you can begin making music and spend less time hunting for a working disc drive or waiting for the mail to arrive.
Happy music making!