For music teachers, it can seem increasingly difficult to make sense of all the ways copyright and licensing can affect your musical and educational endeavors — distributing parts, holding concerts, streaming video performances, generating audio recordings, etc. Copyright and licensing factor into each of these activities due to the fact that they all incorporate someone's intellectual property … but how?
This article, while not legal advice, aims to illuminate various paths you can take to ensure that composers and publishers are fairly compensated for the use of their intellectual property.
---
Sheet music (a.k.a. music notation or engraving) is one of the primary mediums through which music is communicated. Whether presented on physical paper or in electronic format, this form of music is protected by copyright.

If you purchase sheet music from a publisher, music dealer, or directly from the composer, you're generally free to use it as intended – to read, play, and perform. Realize, however, that many publishers expressly prohibit photocopying, scanning, or otherwise reproducing scores or parts. It's important to understand how/when you're permitted to reproduce a copyrighted work, and the publisher should have its terms clearly spelled out, either in the copyright notice itself (usually at the bottom of the first page of music) or on its website. If scanning and/or photocopying isn't permitted, don't do it.

If you purchased sheet music in electronic format (e.g., PDF), it's likely that only you, as the legal purchaser, are permitted to use that sheet music for yourself or your ensemble. Files are not to be shared through email, online file hosting, or any other means, even if you're doing it for educational purposes. Any sharing like this would be considered copyright infringement.

For the convenience of our customers, our policy at Tapspace has been to provide individual players' parts in PDF format for most pieces. This can greatly ease the burden of replacing lost or damaged parts. However, these parts are to be printed and distributed only to the members of your (the original purchaser) ensemble.

If you are performing at a music festival and need to provide reference scores for adjudicators, it's important to accomplish this legally. Some publishers may grant a letter of permission to photocopy upon request. Others offer "score only" versions at reduced prices.

Lastly, some publishers offer sheet music for rent. In these cases, be sure to abide by their rental agreement.

---
These days, we're surrounded by video. Online, in commercials, on TV, even at the fuel pump, moving images are everywhere! And if you think about how often videos include music, guess what? Music is everywhere, too.

Legal use of someone else's music in a video requires what is known as a synchronization (or "sync") license. Basically, it covers musical content that will be synchronized to visual content.

When are you required to obtain a sync license? In short, any time you're using someone else's music in a video without the express permission of the composer or publisher.
If you're a student or music educator, video and/or live stream performances of concerts and recitals are obvious cases when a sync license would be required. But music used in movies, TV shows, commercials, wedding and promotional videos, and even slideshows are cases where a sync license would be required unless the music was pre-licensed (i.e., purchased from a music licensing agency).

Let's focus on the common scenario in music education in which you intend to make a video of a concert and post it online on YouTube, Facebook, Instagram, etc.

In order to obtain a sync license, you need to contact the copyright holder of the music being recorded. In most cases, this will be the publisher. If you have the sheet music, there will be a copyright (©) symbol on the first page of music stating who owns it (sometimes there are multiple owners). If a straight-up "google search" for the publisher doesn't yield results, performing a search via performance rights organizations such as ASCAP, BMI, or SESAC should give you a decent shot of locating the publisher's contact info (more on these organizations in a moment).

At Tapspace, we've done our best to make the process of obtaining a sync license as simple, efficient, and inexpensive as possible. We also share any license fees we collect with the composer. By properly obtaining a sync license, you are helping to support the composers whose music you worked so hard to perform.

Here are the sync license policies (and request forms) for Tapspace:
---
Concerts, recitals, and music festivals are all obvious examples of public performances of music. Did you know that the playing of pre-recorded music in a public setting also legally constitutes a "public performance"? Yes, even recorded music played over the P.A. in a football stadium, at the grocery store, in a restaurant, or on the radio are all considered public performances. And often times, the composer and/or publisher are entitled to performance royalties for public performances.
The venues that host public performances of music, whether live or pre-recorded, are required to pay for the right to use this music in public. This is known as a performance license. In the United States, performance licenses are granted by performance rights organizations (PROs) such ASCAP, BMI, and SESAC.

Venues that provide music publicly (concert halls, colleges/universities, churches, shopping malls, satellite radio, the convenience store on the corner, etc.) can subscribe to an annual license with one or more of the main PROs. This license grants them legal access to perform anything in that PRO's catalog.

That's right – the venue is in charge of securing the performance license through the PRO, either as a blanket license or individually for each performance. So, it's likely not something you as a performer or teacher need to do.

If you're performing concert music, it's hugely beneficial to composers if you share your concert programs with the publisher. The publisher can then submit the concert program to the PRO as proof of performance. At the end of the year, PROs divide the licensing fees between the composer and the publisher. The composer will benefit from this and it doesn't cost you anything!

As a side note, YouTube and Facebook have blanket performance licenses with PROs, so in theory, performances hosted on these platforms are also covered. However, it's still helpful for you to share concert programs with the publisher to be sure those PROs are receiving the most accurate accounting of lesser-known concert music. It's tough for concert composers to compete with bigger ticket artists!

---
Are you considering recording an album containing someone else's music? Recording a cover of a song for your podcast? For this, you need a mechanical license. A mechanical license is issued by the copyright holder of the music you're recording. It grants you the right to create an audio recording of their copyrighted music. As a reminder, the first step in securing any license is finding out who owns the copyright. As mentioned above, the copyright owner is usually listed on the first page of the sheet music, or you can search ASCAP, BMI, SESAC, etc.

If you're making a limited quantity of CDs, cassettes (remember those?), vinyl, digital downloads, or interactive streams, you can search Songfile (by the Harry Fox Agency (HFA)) to see if their catalog includes the selection you want to record. If it does, you can immediately purchase your license from their easy-to-use interface.

If the title you want to record is not available through Songfile, you'll need to contact the copyright holder directly. Be ready to provide the following information and to be patient, as most companies require 4–6 weeks to process license requests:
How many recordings you expect to produce (or distribute digitally)
Title/composer of composition being recorded
Duration of the composition (or portion of the composition you intend to record)
Record label and title of your album/recording
Name of artist performing on your recording
---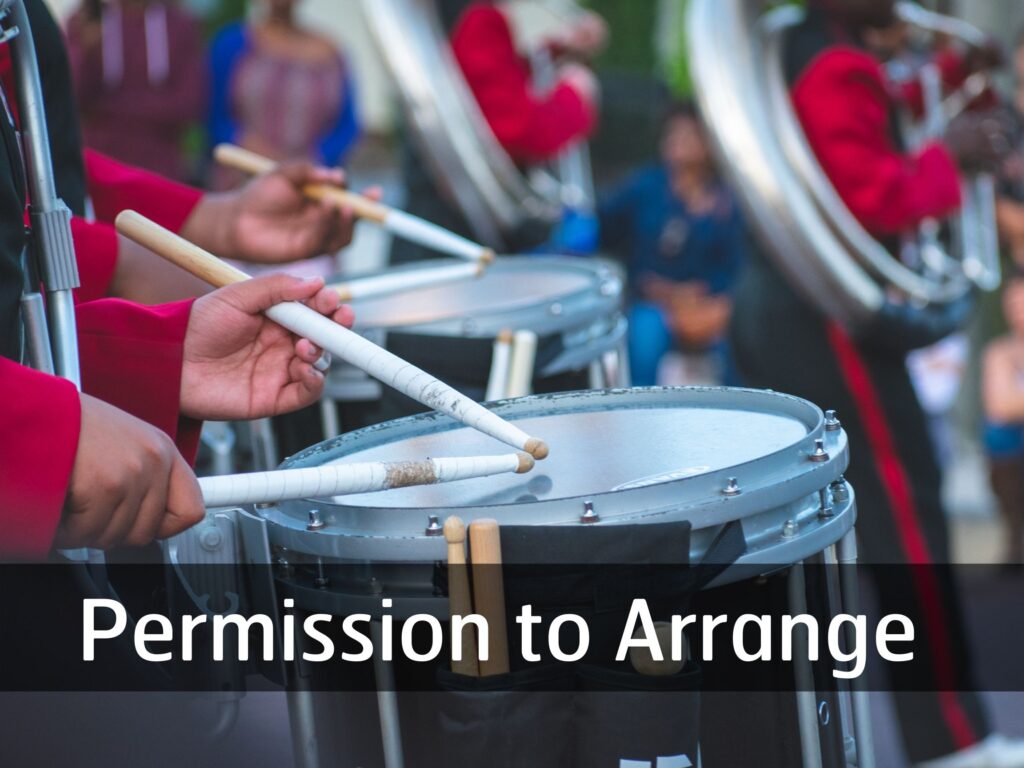 Arrangements are derivative works of a piece of music created for some other purpose. For example, if you wanted to arrange the theme to "The Simpsons" for marching band, indoor percussion, etc., you'd first need to acquire a Permission to Arrange (PTA) license from the copyright owner.

A PTA license typically lasts for a finite term (i.e., one band season) and is useable by the singular licensee only. In other words, if you paid for an arrangement for the current band season, the license would most likely not entitle you to use the same arrangement in a future season or with another ensemble.

These days, most educational organizations and competition circuits require proof that a PTA license has been obtained by the performing ensemble. The cost of these licenses can vary from $300 or more per composition, so it's important to consider this in your timing and budget planning.
There are third-party services like Trésona that will work to procure a PTA license on your behalf in a relatively painless way. However, if you're willing to do a bit of extra legwork, you'll often find that publishers are happy to work with you directly, and oftentimes at a lower cost.
If you're interested in arranging music published by Tapspace, click here for information and a simple-to-use Permission to Arrange form. It's friendly, automated, and quick!

---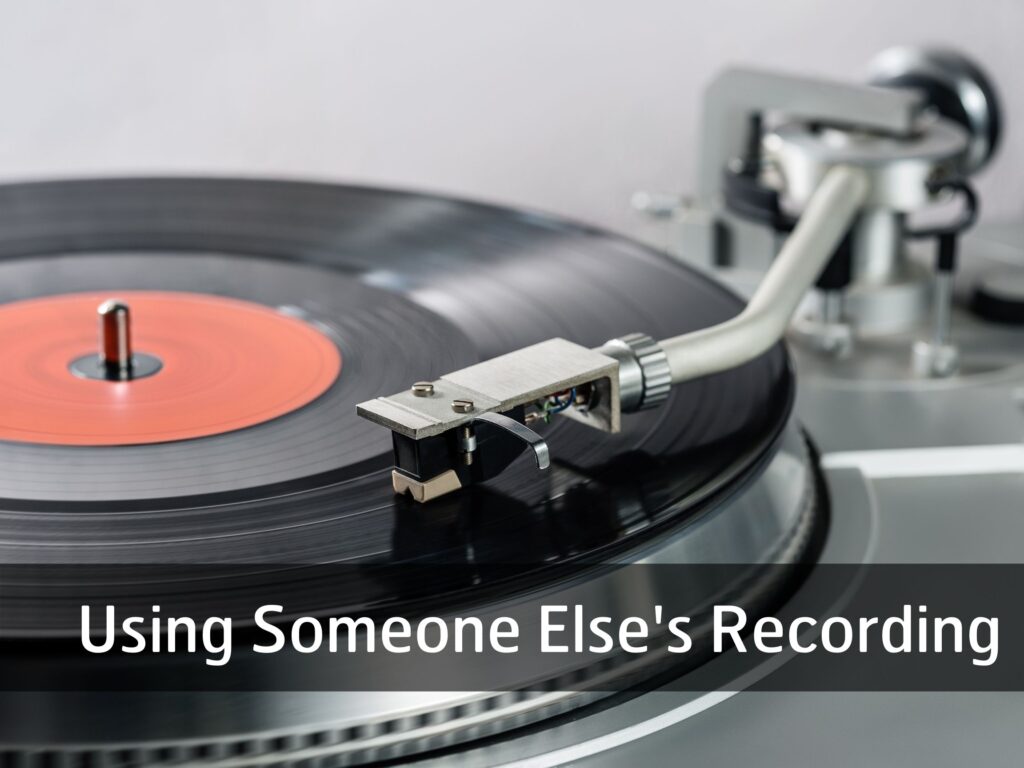 Just as publishers (or composers themselves) own the copyright to musical compositions, the recordings of those compositions may be owned by someone else entirely. That's right! Every recording you hear is technically owned by someone. Often times, this is a record label.

For example, Stevie Wonder's Superstition is published by Black Bull Music and Jobete Music Co., but the recording from the 1972 album Talking Book is owned by Motown Records. If you wanted to use this actual recording in an audio or video project you're producing, you need to acquire a Master Recording Use License from the record label (Motown, in this case).

This can be especially important to consider if, for example, you're wanting to record a video performance of a piece that uses a prerecorded backing track. The audio from that backing track is owned by someone, often (but not always) the same person or entity that owns the copyright to the music itself. So, if you plan to include the backing track in your performance video, technically you'd need to obtain a master use license and a sync license.

There are a number of pieces in the Tapspace catalog for which we own the master recording. If you plan to request a sync license to post a video of your recital, we have a quick little "Master Use" checkbox built into the form, so you'll automatically be covered.
---
THE FINAL WORD
As musicians ourselves, we know all too well how challenging it can be to assign worth to art. While all this licensing stuff can be confusing and even downright daunting at times, it exists to do exactly that and, by extension, to help support the artists who create the music you love. As publishers, we hope to support artists while also making it as convenient as possible for educators to do the same.
Now, go make some music!