With festival season upon us, we're very excited about the 'study score' options on our website. It makes securing extra copies of scores quick, easy, stress-free, and (most importantly) legal!
Some of you may be familiar with the Festival Score 3-PACKS we used a few years ago. Well, it's been improved! Rather than receiving a watermarked score that expires after your festival, we now offer the option to purchase two or three individual scores*, each at a significantly reduced price. You can use them for any number of reasons such as festivals, personal study, or rehearsals, and they can be used indefinitely.
Here's how:
Search for your desired ensemble. Once you've navigated to the page of the product you wish to purchase, simply select how many scores you'd like from the Package Selection drop-down menu. If you only wish to purchase 2 or 3 copies of the score you do not have to change the Quantity, just keep it at 1. This will ensure you don't get double or triple the amount of scores you require.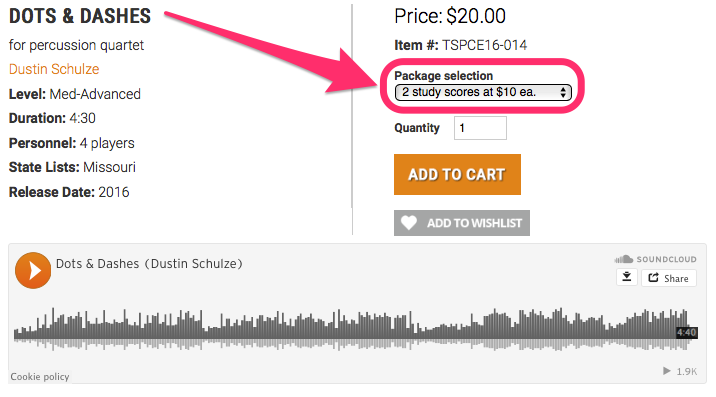 Once you've selected how many scores you'd like to purchase, add it to your cart and check out. It's that simple! Once we've processed your order, we will ship them to you. No paperwork, no photocopying, and no need to destroy your festival scores!
It's our sincerest hope that you find this process intuitive, easy, and a RELIEF. Best of luck at your festivals!
*Study scores are only available for ensembles (individual parts not included), and not for duets, solos, or book products.