As Virtual Drumline has been a mainstay in the creative arsenal of composers and arrangers for over 15 years now, we'd like to shine a spotlight on some of the people who have done exceptional things with it. Today, we're excited to feature Chris Thompson.
Originally from the San Francisco bay area, Chris Thompson is a New York City-based music composer, arranger, and percussionist. His music blends the high-energy sound world of modern drum & bugle corps with the experimentalism of contemporary classical and electronic music.
Chris' work as a percussionist and arranger greatly influences his composition: for over a decade he has been a member of Alarm Will Sound and the American Contemporary Music Ensemble (ACME), he recently toured internationally as a performer with Tyondai Braxton's HIVE, and at age 15 he was one of the youngest-ever members of the Santa Clara Vanguard drumline.
Having performed, recorded, or arranged for artists and ensembles such as Alarm Will Sound, ACME, Björk, Dirty Projectors, Medeski Martin & Wood, the Metropolitan Opera, Nico Muhly, Brian Reitzell, They Might Be Giants, and Valgeir Siggurðsson, Chris has participated in the world premieres of over a hundred new works and can be heard on 30 studio albums. For ten years he has performed in the pits of various Broadway shows, including Wicked and The Phantom of the Opera.
His debut solo EP Lot Hero was released in December 2017, and in 2019 he released his LP Everything Imaginable Comes True.
These albums are absolutely unique, showcasing Chris' wide range of influences and creative curiosity. For anyone familiar with VDL, you'll also be tickled at how Chris uses it and other elements of marching percussion within his music. See below to get a promo code for 30% off anything in Chris' Bandcamp store!
Chris, you use Virtual Drumline in a way that morphs its raw, acoustic sound into something more electronic and unique. Do your sounds come out of experimentation, or do you have a preconceived idea of the sounds you're trying to create?
CT: Lots of both! Back when I was involved in drum corps in the 90s I was listening to a lot of electronic and sample-based music and I couldn't believe that no one was sampling or "doing electronic music to" the sound world that spoke to me — the visceral, blow-your-face-off power of marching percussion. Entire genres of electronic music have been created from the tiniest snippets of really compelling audio material… so my preconceived notion was and continues to be, in a nutshell, "why not sample a tenor line???"
When VDL originally came out I was really really excited, because I knew it was exactly the tool I needed for playing with that idea. All manner of experimentation followed naturally, and I'm still experimenting with it today.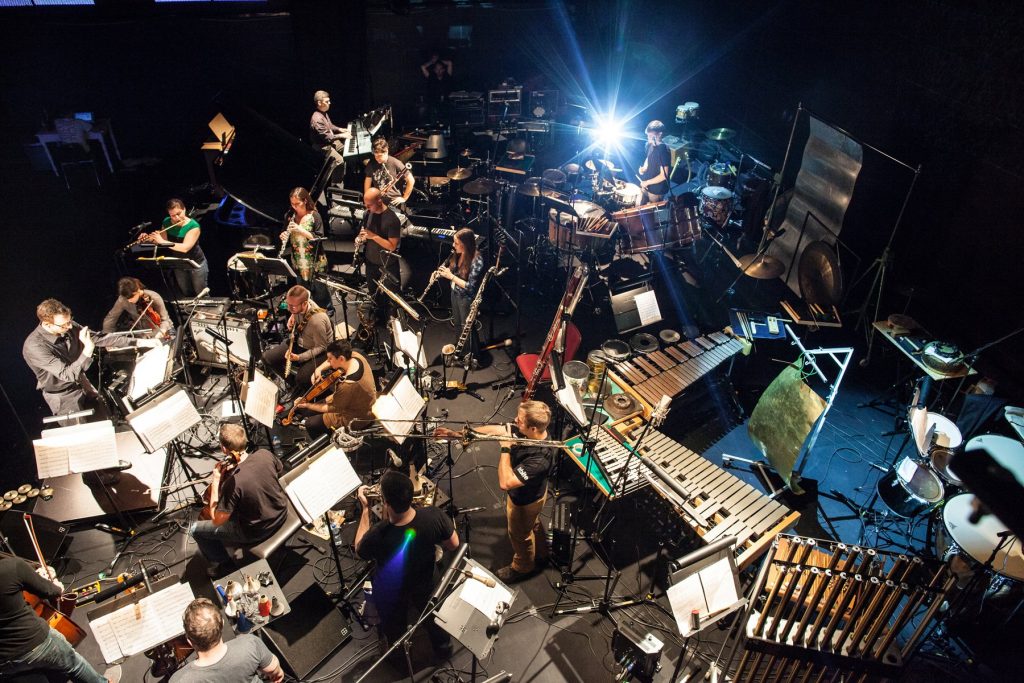 Many VDL users work strictly in notation environments without delving into manipulating it sonically. How you go about using virtual instruments in a more experimental setting?
CT: On day one, I loaded VDL into Ableton Live. For almost any other virtual instrument on the market today, this is not a revolutionary idea. It's what you do. But somehow with the tradition of marching music being so inextricably tied to notation, bringing VDL straight into a DAW (rather than a notation environment) felt like a total creative revelation.
You can use Reason or Logic or FL or ProTools or Reaper or, like, Renoise, or wherever you feel most creative. The number of creative tools available in these pieces of software is so mind-bogglingly vast as to be nearly unlimited. Pretty much anything sonically you can imagine is now create-able in these environments.
It is like coming at composition from a completely different angle, and I often end up writing music that I never, ever would have conceived of in traditional notation. In fact, I've ended up with really cool material that even sort of defies standard rhythmic notation, despite having a clear sense of groove and making sense to the ear and the body. I go back later to figure out what I wrote and it doesn't fit neatly into traditional notation at all. It's a really cool feeling.
Can you share the basic overview of your compositional workflow?
CT: I've noticed that my workflow for using marching percussion in electronic music tends to fall into one of three categories:
1) Staying in the sample library throughout: For example, 100% of the drums in this track are VDL samples, derived from a couple of simple full-drumline grooves I composed into midi clips. I bounced those clips to audio tracks, and put the audio through a gauntlet of beat-shuffling and time-shifting processes to generate a bunch of more metrically interesting grooves… and to gate and stutter the sounds in an otherworldly way.
2) Record "a drumline of myself." This is what I do for most of the tenors in my music since tenors were my instrument, and I have a set in my studio to record on. I'll start on paper or in MIDI using VDL as a temporary mock-up to compose the whole track. Then I'll record the tenor parts a bunch of times, gradually overdubbing to build up that magically thicker "full line" effect. 5 times through and its like a live tenorline recorded it. All the tenors here and here were recorded using this method.
3) Treat an existing audio recording as a sample. The "take a tape recorder to the parking lot method." We've all been doing it for decades, why not make creative use of some of those parking lot tapes? The experimental rap group Death Grips famously used a recording of BD playing Ditty as a sample, to awesome effect. I used almost exclusively drumline parking lot recordings for my first EP Lot Hero a couple years ago. Chop em up, slice and dice, time-stretch, compose new music from existing recordings. Just make sure to always clear your samples!
When it comes to producing and composing new music, what are some of your "go to" tools you rely on to stay creative?
CT: Journaling (longhand, on paper, daily) helps me break through all the nonsense brain roadblocks and clear the mental and emotional crap out of my way.
Meditation makes the dust settle so that the good ideas and helpful insights rise to the surface when I need them most.
Other than those, my most important tool for creativity is simply showing up. Putting myself in a place where I can create, airplane-mode-ing the rest of my life, and making myself be there. Even if nothing is happening (which can be maddeningly often).
How does your experience in drum corps influence your approach as a professional percussionist in NYC?
CT: My experience in drum corps gave me really solid chop fundamentals and the ability to listen and blend within an ensemble, both of which I am grateful for every single day.
It also made me a raving, neurotic, foaming-at-the-mouth lunatic. The obsessively perfectionist attitude that resulted is either the secret to my success, or an omen of my inevitable mental collapse. Not sure which yet, stay tuned.
What advice would you give to artists seeking to release their music independently?
CT: This is so, so hard. There is a lot of conflicting information out there today and the career-path of someone wanting to do music seems to turn upside down about once every 18 months.
Maybe think about the purpose and destination of your music, and then get ready to adapt to near-constant change. Commit to an informed strategy that feels right to you, and then let it evolve.
In our culture, creating commercial success and making art are conflated in a really confusing way despite being two completely different goals that require two completely different frames of mind. I wouldn't say you need to pick one or the other, but you need to be aware that there's a spectrum and figure out where on that spectrum you're comfortable living.
My personal strategy currently is to try to get my music heard in places where there are lovely adventurous folks who still think music has emotional, cultural, and monetary value. For me this means places like Bandcamp, and it means releasing on vinyl, in a package you can hold in your hands, with thoughtful album art, and honest, grateful credits. It also means reaching out to people personally, no matter how intimidating it might feel. Which reminds me that I owe a big thank you to Jim Casella for taking an interest in my work and for helping me share it with you!
Thank you Chris. Now, to all you lovely, adventurous folks who want to dig deeper into Chris' music, you'll receive 30% off anything in Chris' Bandcamp store by using the promo code: tapspace. We urge you to get the vinyl. It's hard to describe the simple satisfaction that comes from holding an LP jacket that's hand dipped in acrylic paint or craft-letterpress embossed, but these are truly crafted items and feel as good as they sound.